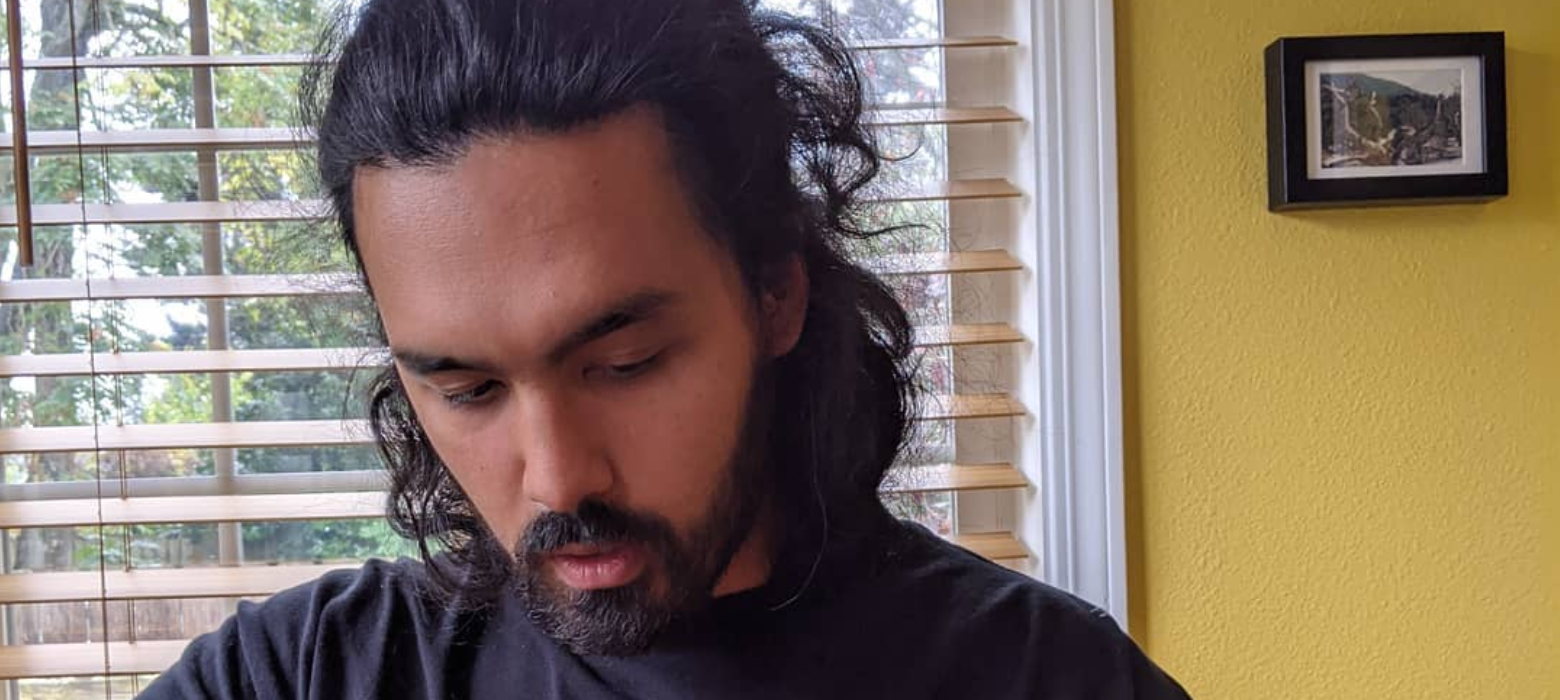 photo by hannahkeliza
games
•
twitter
•
pidzn club
Hello : ) My name is Mickey Sanchez. My pronouns are he/him and they/them. That's me up there looking very serious and professional. I am a queer, half-filpinx (ilocano), half-white artist and game developer.

In June 2020 I released a video game that I wrote, co-programmed, and composed-for called Robot Island. It is a game about empathy, isolation, and unmet needs where you play as a robot flight attendant on a space ship. I made the game with friends under the studio name New Beings. I was interviewed about this game and pidzn club (see below) on the Talking To Ghosts podcast.

I received a RACC professional development grant in 2019 to attend Train Jam where I created a Bruce Lee dating simulator called Warm Marble. In 2020, I was accepted into the Glitch Power Levelling Program, a professional development program for creative leadership in the games industry. I was invited to do a talk for the Portland Indie Game Squad about my games in August 2020, and I created a video piece called Talking About Personal Stuffs: A Video Zine Talk By Mickey for the occasion.

I will be teaching Intro To Game Development at the Pacific Northwest College Of Art and Game Level Design at Portland Community College starting January 2021. I've led a couple game-related workshops in the past: Storytelling and Game Design With Twine and Planning Strategies For Game Development.

Here are all the games I've made.

I was commisioned in the winter of 2020 to create a piece called Hemoglobin Count 2077 for the East Portland Arts and Literary Festival online zine, Caring For Our Shared Futures.

In 2018, me and my collaborators, Lu Yim, Takahiro Yamamoto, and Yun Chiu, received a grant from the Precipice Fund (Portland Institute For Contemporary Art) to create pidzn club, an online publication and curatorial project featuring artists creating within the virtual and physical Asian Diaspora. We produced a group art show in August 2019. We also received a RACC Project Grant to continue our work in 2020, but things are a bit on hold due to Covid.

I've been making a few songs. Most people who've met me recently probably don't know that from 2010 - 2013 I was a semi-professional musician who toured as a keyboard player in a band. soundcloud here if you prefer.

I recently did the music/sound for switch, a dance piece by Hannah Krafcik and Emily Jones, which I performed live in both Portland and New Orleans.

In 2010, I got my M.A. in Performance Studies from NYU, where I mainly studied the history of performance art and did a few o.k. performances of my own. I currently live on the traditional lands of Cowlitz, Confederated Tribes of Grand Ronde, Clackamas and many other tribes, which is presently known as Portland, OR, with my partner Hannah Krafcik.